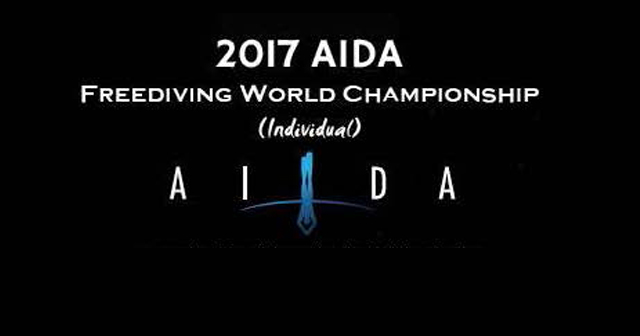 by FII - October 30th
Congratulations to Brandon Hendrickson for his bronze medal at the 2017 AIDA International Freediving World Championships.
FII is proud of its FII-certified freedivers and instructors competing at the 2017 AIDA International freediving World Championships hosted in Roaton, Honduras. This internationally acclaimed event attracted the world's top freedivers to fight it out for the revered title of 2017 Freediving World Champion.
Hawaii-based FII Instructor Daniel Koval had an exciting lead-up to the event, setting a new personal best of -100 meters in his home waters of Kona, Hawaii. A few technical errors put him out of the race in his best event, but Daniel finished on a high note, landing eighth position from his constant weight—without fins performance. Daniel was accompanied by his partner, Kristin Kuba (FII L3, AFS), who was attending her first international event. Kristin put in superb performances across the disciplines, including a beautifully executed -70 meter constant weight freedive. There is no doubt we'll be seeing more from this talented young athlete.
Kansas-based spearfisherman Brandon Hendrickson (L3) stole the show with his bronze medal, winning the free immersion dive portion with a depth of -91 meters. Brandon has been methodically progressing over the past few years, claiming the United States National Record in Static Apnea in 2016 with a solid performance of 8:35 minutes. Brandon attended the FII Kona Freediving Camp in 2014, 2015, and 2016. These week-long training camps, conducted by 13x World Record Freediver and FII Founder Martin Stepanek, have proven time and again as invaluable development camps for all athletes and instructors.
Jennifer Brandt (L3) logged some lovely performances and received several white cards at her first international competition. Jennifer started freediving in Florida with FII and decided to move to Hawaii after attending two FII Kona freediving camps. It's been a pleasure to watch this determined women tackle her new passion with so much enthusiasm and dedication.
The 2017 world championship was the first time an athlete's complete performance could be viewed through the new DIVEEYE technology, and it brought an exciting new level of spectatorship to the sport. We wish to extend our congratulations to all the athletes, and we look forward to supporting more FII divers in 2018!
Back to Blog Page