ABOUT F.I.I.
F.I.I. is the first and only recreational freediving education agency headquartered in the United States. It has an international reputation for upholding the highest safety standards in the industry. The agency was founded by 13-time world-record freediver Martin Stepanek on the core principle of improving the safety and education of recreational freediving, spearfishing, and breath-hold-related activities across the globe.
F.I.I. recognized the need to make freediving safer to allow it to continue in its growth and popularity within the general public. Based on years of experience in freediving, teaching and the newest scientific findings F.I.I. identified and standardized the core knowledge needed for effective, safer and enjoyable freediving. Most importantly F.I.I. created uniform and mastered methods of presenting this core knowledge effectively. The F.I.I. standardized education system was created to assure that F.I.I. instructors know not only what to teach, but also how to teach it, and thus setting standards in the industry while providing the desired quality assurance to the students that literally saves lives out there.
F.I.I. freediving education brings world-class, professional standardization to the freediving industry. When you learn freediving from any fully insured and F.I.I.-certified instructor, you know you are getting the finest, safest freediving education—guaranteed.
Our Core Values
What is important to us as an organization?
Quality Freediving and Spearfishing Education Saves Lives—Freediving and spearfishing safety is at the core of everything we do—our community is made up of safe, educated freedivers and spearfishermen and spearfisherwomen who embrace this message and share it with others.
F.I.I. Community—All F.I.I. freedivers and instructors are ambassadors for our organization and spread the messages of safety and education. The freediving and spearfishing community has helped build and shape this organization. Without our community, we would not be who we are.
Ethical Business Practices—F.I.I. upholds the highest level of business ethics. F.I.I. professionals follow a strict Code of Ethics and Conduct, and their first responsibilities are the students and the ocean environment. We believe in what we do and proudly stand behind the high level of service we provide to our community.
Ocean Conservation—F.I.I. promotes ocean awareness and a sense of guardianship for our local waters. As freedivers we are in a unique position as the "Eyes of the Ocean," and our important feedback is keenly utilized by ocean conservation groups and local fisheries offices worldwide.
Sustainable Spearfishing Practices—F.I.I.'s goal is to protect the art of spearfishing through proper spearfishing education, while promoting sustainable hunting practices so it can be enjoyed for many generations to come.
Team Sport—F.I.I. Instructors are trained to create safe teaching environments that ensure all students feel comfortable learning and overcoming obstacles together. This support network is fostered in newly formed buddy teams and extends into the community beyond the course. Freediving and spearfishing is a team sport regardless of the level or activity.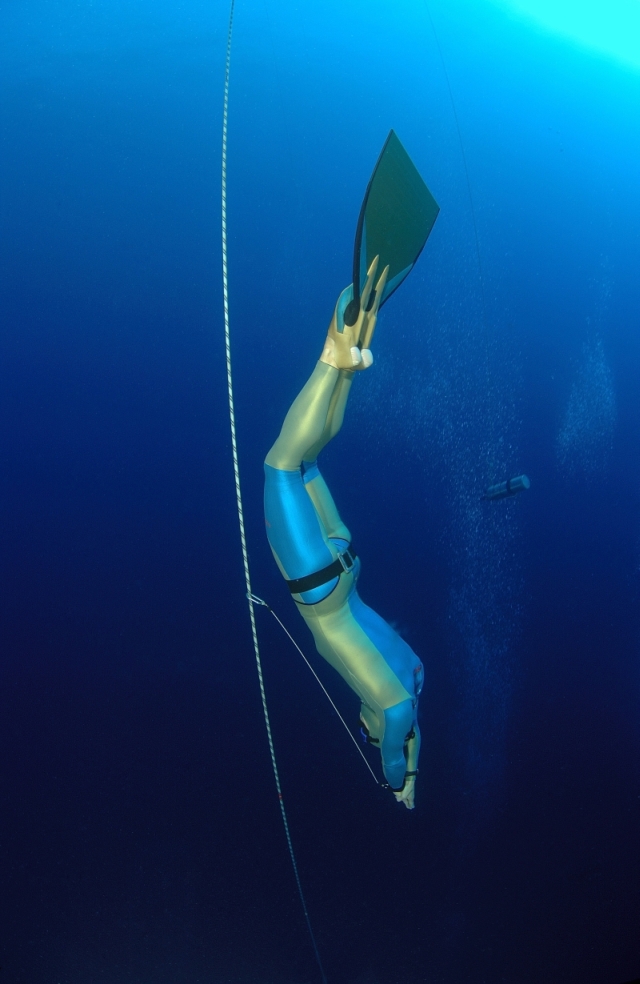 Martin Stepanek
13-Time World Record Freediver and F.I.I. Founder
Martin Stepanek is a freediving pioneer, having gone to depths never before–over 400 feet on a single breath of air. He claimed his first freediving world record in 2001, and has since gone on to become one of the world's top freedivers in history, setting 13 world records throughout his competitive career.
Martin's passion for physiology and sports biology led him to explore what the human body experiences while freediving, and he worked closely with top researchers from prestigious universities such as Harvard University and the Karolynski Institute of Sweden to uncover some of the physiological mysteries behind this sport. His participation in this ongoing research has helped scientists better understand the impact that depth and pressure have on the freediver.
As the Director of Education, Martin has personally developed all of F.I.I.'s core freediving programs and many specialty courses now enjoyed by thousands of people worldwide.
Martin has been featured on ESPN, BBC, CNN, Discovery Channel, PBS, and FOX, along with numerous print magazines such as Men's Journal "Athlete of the Year," Playboy, Men's Health, Muscle and Fitness, and ELLE.
F.I.I. Worldwide Instructor & Course Locator!