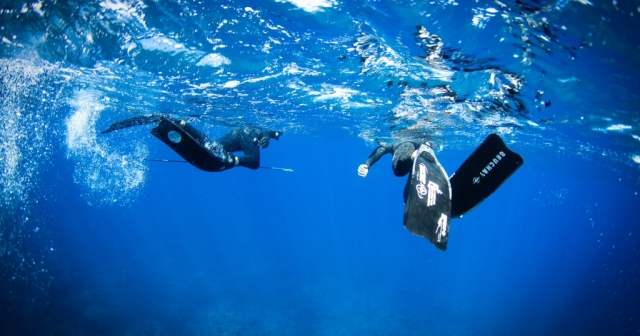 by Mark Wallerstein - July 24th
This diver, like most others, would love perfect conditions on and in the water every day. Unfortunately, this is not always a reality. Not all of us can live in Kona where the water and temperature is perfect year round.
For the most part we are all stuck, and I say stuck hesitantly because anywhere you can dive is great already, diving in whatever location is reasonably close to us. For some we are luckier than others, I was able to escape the lakes of New Hampshire and start diving ever day in the warm South Florida waters.
The conditions here could easily be argued as great year round. However, what people see as great has changed dramatically. Many have become spoiled to the point where a little rain means the conditions are no longer diveable. So to you I pose these questions; what is a great day on the water? What are diveable conditions? I for one say any day that you can get in the water for either Freediving or Scuba and be safe is a great day with diveable conditions. I was out in the Gulf Stream not too long ago working with a class from the FII headquarters in pompano when a rain storm passed over us. Quite often around here you will see divers leave the water and call it a day when rain hits, especially if it lasts more than ten minutes. When that rain hit us the only thing that went through my mind was; "hey… free back massage during my breath up. Awesome." It was still a warm day; I had my wetsuit on so everything was still perfectly comfortable. If anything the rain actually calmed the seas a little bit. During the dive it was even better. As I sat around 70 feet and looked up all I saw was a magnificent picture of Freedivers warming up, and the water dancing from the rain drops. I couldn't have asked for a better view while I was down there.
As for scuba divers, I ask what is the rain really going to do to you? You are underwater the entire time, and don't be afraid to leave your gear close to the back of the boat out from cover. I promise you, it is going to get wet one way or the either, just because the gear is there doesn't mean you have to sit in it for the ride to the site. If anything, all diver should hope that it rains a little on the way back to land, you're getting free fresh water gear wash without having to do anything. Next time you look at the conditions and try and decide to go Scuba or Freediving I truly urge you to really think about it. Ask yourself; is it safe? How will the conditions truly affect me? And will I enjoy myself? If you can answer yes to all of these, then my friend you are diving in ideal conditions already. Be safe and enjoy what you have…
Back to Blog Page