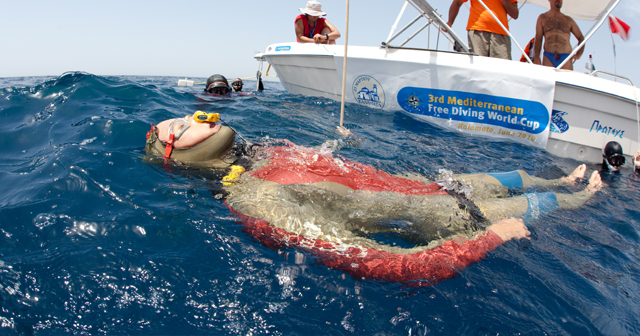 by Niki Stepanek - July 22nd
As a competitive freediver and avid outdoor athlete, I'm often asked, "What do freedivers eat?" For the body to become balanced, it requires the right fuel. To function at peak capacity, it takes a more dedicated approach to fueling, and the timing of that fuel intake is critical.
I've conveniently settled into a wonderful approach to fuel: I eat what I crave, which is a response most people find a little surprising. When you learn to eat what you really crave, your body becomes better tuned and operates at peak performance.
With the constant flow of diet fads hitting the media, it's no surprise that so many people are confused as to what they should be eating. This multibillion-dollar diet business is exploiting those who have simply lost touch with their bodies because of long work hours, chemically processed foods, and busy lifestyles. True cravings have been overtaken by instant fixes of hidden, chemical sugar bombs conveniently presented to "save time." Even though they save a few minutes on food prep, they deny our bodies what they truly need: a balanced diet full of plant-based, nutrient-rich foods; unprocessed carbohydrates; lean proteins; and healthy fats. If you step back and take the time to focus on what your body needs, you can understand the common sense behind this simplicity. Eating right is about making responsible, daily choices for your body; it's not about making drastic changes and then caving into cravings for unbalanced, fatty foods. As with any change—from a new workout to dietary choices—gradual changes make permanent habits. Eventually, the body recalibrates itself so that it is again satisfied by highly nutritious foods and signals through mild cravings that you can translate, thus keeping you alert to its needs.
We all need to be reminded now and then of the important function of proper fueling in recovery and performance. This approach moves well beyond eating whatever is in front of you to sustain life (a short and complicated one at that). Proper fueling allows you to perform at your best, all the time.
Healthy Tips
Go Organic
Organically produced foods may be slightly more expensive, but you're getting more bang for your buck in the nutrient count. Plus, you will be amazed by the difference in taste and energy. Residue chemicals and pesticides from conventional fruits and veggies wreak havoc on your system. It's even better if you can grow your own greens!
Healthy Carbs
Mastering the art of carb intake in and around the time you exercise/freedive allows for optimum performance and recovery. Despite what Paleo diet enthusiasts may say, healthy carbs are an absolutely essential part of a freedivers diet.
Whole Foods
Step away from the processed foods! That "food" you're looking at has been stripped of essential nutrients. Although they may be cheap, processed foods are filled with cheap, empty calories. They are bad for your health, and you will pay for it later on down the road.
Daily Greens
Fill up on kale, spinach, and collard greens. Dark, leafy greens are packed full of vitamins and minerals. Not a fan? For a delicious midday smoothie, try blending them with almond milk, 1/2 teaspoon of agave nectar, a scoop of vanilla organic plant-based protein and a frozen banana. Alternatively, two handfuls of kale blended in the juicer with two green apples tastes unbelievably good. If you are not yet used to the natural flavor of real food, stick with it, and you'll be surprised at what happens.
Organic Lean Meats
Find a local butcher who sources locally from responsible farms, or hit up a green market for grass-fed, lean, organic meats. It's our responsibility as consumers to support farms that humanely manage livestock and guarantee us healthy proteins without added hormones and other misbalances. Sustainable hunting and spearfishing is hands down the best way to source healthy clean protein. Connect with local hunters, and trade with them!
Hydration
As freedivers, we are highly motivated to become hydration freaks, and thankfully, this habit is hard to break. Always have a water bottle nearby, and sip ad libitum.
Balance
Everyone has a different natural weight and appetite. Find your balance, and as you increase your freedive training, your body will naturally inform you of proper portion control. Remember, it's okay to feel a little hungry if you're not training, but during events and important trips, keep on top of it to maintain key energy levels.
Eating well may mean increasing your weekly grocery bill; however, this is offset by an undeniable increase in health benefits and a lowering of health-care bills later in life. If you are interested in this article, then you might consider the F.I.I. Level 3 Freediver course, which focuses on finely tuning your body for optimum freediving/spearfishing performance, freediving diet, and training principles.
Health is wealth, friends! See you out in the water.
Back to Blog Page