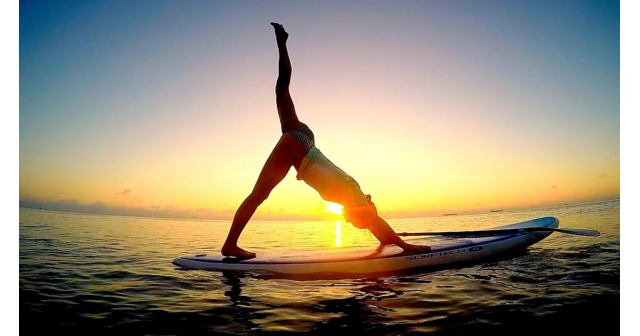 by FII - August 03rd
So what does it take to be a female freediving instructor in the United States? We caught up with Elisa Buller - FII Instructor, Yoga Guru and British expat, on travel, freediving with whales and why everyone should do yoga.
Where do you teach? I am based full-time out of Fort Lauderdale/ Pompano Beach, Florida. I have a great network here of super yacht crew, who are always pinging me to teach FII freediving courses. In addition to teaching in South Florida, I also offer private freediving courses in the Keys and the Bahamas. South Florida truly offers a great base for freediving.
I also work with Divers Direct in Fort Lauderdale and we look forward to bringing more freediving into the shops soon.
You've traveled the world as a diver, underwater model and super yacht crew, what is your all-time favorite place to freedive? Tricky question! So many amazing places! Well, I of course I love my local Florida waters, especially in the summertime. But I have had the opportunity to spend a good amount of time working in the Cenotes of Playa Del Carmen, Mexico. This water is amazing, clear, calm... But a little chilly. It's just a totally different place to dive for someone like me who has spent most of my time in the ocean. I had the pleasure of working on a project called 'The Mermaid Project' with my good friend, Brenda Stumpf while I was there.
My other favorite place is the Dominican Republic, 80 miles offshore in the marine mammal sanctuary of the Silver Bank. I worked three seasons out here as an in-water humpback whale guide. Myself, and the other guide would often go out at the end of our day on the water and just do some fun freediving -- take some pictures, and swim around the big coral formations. It was awesome being the only people out in the water and hear the humpback whale song all around.
And finally, I LOVE the water in the Exumas. I have has the pleasure of working on yachts and dive liveaboards for many years out in the Exumas. In fact I'm here as I write this! The water is SO beautiful... I've not seen this color water, quite so clear and blue anywhere else in the world.
What do you love the most about teaching freediving? I really like to see people's comfort level in the water increase dramatically as they learn what they are physically able to do. I love seeing the surprise on my students faces, the happiness of achievement.
Of course, it is also really great to see the relationships students build as you teach them proper freedive safety techniques and watch them as they safety each other, with complete discernment.
That's also what makes this sport so much fun to participate in... Everyone is looking out for each other's best interests.
You also teach yoga, do you recommend your students take up yoga? Yes! I recommend everyone does yoga and it is especially good for freediving. One of my humorous friends said a great quote once: "Yoga makes you better at everything" -- It's funny, and it's pretty spot on. Basically yoga teaches you patience, it teaches you to be humble, to be thankful, and of course the physical benefits of strength and flexibility gained through physical practice. Spiritually, you can start to connect with yourself on a different level. There are a lot of parallels between freediving and yoga for all these reasons.
As Umberto Pelizzari once said, ""The scuba diver dives to look around. The freediver dives to look inside.", I think this is a really interesting statement. Yoga takes you inside, and freediving does too. As humans we all have an ongoing dialogue in our heads, and that dialogue can limit your potential as a human being -- this chatter can be causing you fear of something, it tells you what you can and can't do, even what is right and what is wrong, and this is all based on a story we make up and tell ourselves based on our life experiences.
With yoga we try and release those limiting thoughts, and in freediving we train to see what our potential is, we look at our biology to learn what we are capable of on a physiological scale. I see my students tell themselves that they can't hold their breath for more than 30 seconds, but they go on to hold their breath for 3 minutes on a FII Level 1 course because they learn what they are capable of -- and that is a pretty clear example of breaking self-limiting thoughts. It's our job to use our education, our common sense and our intuition to safely move beyond our limiting boundaries a human being. It's about being alive, right?
Yoga is all about breathing deeply. There are lots of breathing techniques we use to calm anxiety, lower heart rate, stress levels. We like to stimulate our para-sympathetic nervous system, and the same applies to freedving breathing techniques. Achieving that internal quietness, through focus on breathing. Presence -- the very moment you are in is what you are focused on through your breathing -- not anticipating the future, not wandering into the past.
Through breathing exercises that we practice in yoga and freediving, we can make our diaphragms more flexible and increase the quality of gas exchange in the body. Through the physical postures themselves we increase flexibility in the body. Flexibility we need in our shoulders, hips, chest and spine... Basically all over to help us move effortlessly through the water with maximum efficiency.
What is your go-to freediving gear? I use a Hammerhead Benthos Black open 3mm cell wetsuit, I use Sporasub foot pockets (because I have small feet, and these fit best!) and C4 Skorpio Flame Carbon fins, Suunto D4 computer, Aqua Lung Sphera Mask, Omersub snorkel and Omer rubber weight belt.
And lastly, do you have any advice for women who want to start teaching freediving? I have to admit, becoming an FII Level 1 Instructor was the toughest course I have completed, and I've done many courses -- I'm a 200 ton captain, scuba instructor and 200 hour yoga teacher. Becoming a freediving instructor was more physically and mentally challenging than any of those other courses.
My advice would be, if this is something you really want to do, let all the other nonsense go that may be holding you back, and go for it. Women are just as capable as men -- you have to be tough though, no buts about it, you cannot be easily intimidated by other people or by the water. All instructor training candidates were treated the same, and this is totally necessary.
Being an FII Level 1 instructor is a real honor and achievement for me -- I've met some truly great people in the freediving community, and some great fellow FII instructors that I am working on some ideas with to get more people, and especially women involved in this sport. See you on the water!
Instagram: _misselisa_
Facebook: facebook.com/elisabuller
FII Instructor Page: freedivinginstructors.com/elisa.buller
Back to Blog Page