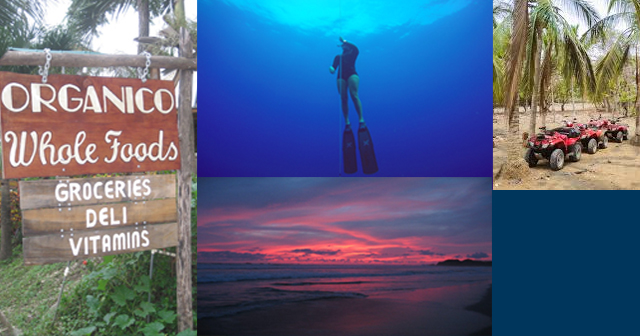 by FII - October 29th
Nosara is located on the North Pacific Coast of the Nicoya Peninsula in Guanacaste, Costa Rica. National Geographic named Nosara as one of the top surf towns in the world, boasting surf breaks suitable for all levels. But its what lies below that is catching the eye of freedivers worldwide.

Many consider it to be the perfect small Costa Rican beach town, tucked away in the jungle and surrounded by nature. You can enjoy a horseback ride on a pristine beach, a wildlife-filled river tour, freedive to her depths, or simply relax at the end of the day with the locals while watching one of the most spectacular sunsets in the world. There's a good reason Costa Rica has been named the happiest country on earth.
With 400+ feet of depth only a short boat ride from the beach, visibility often exceeding 100 feet, and warm water year-round (generally 80+ degrees), Nosara is an excellent destination for freedive training. Spearos don't need to feel left out - only a couple of miles from shore are some reefs that are teeming with life. Large snapper, grouper, and amberjack are regularly taken there. Pelagics including yellow fin tuna and wahoo are not uncommon, either. Rest assured that the local spearos and guides practice and encourage sustainable spearfishing practices, as should you.
If you're looking for a freediving and spearfishing destination that has a lot more to offer than your typical tourist trap, Nosara should be near the top of your list.
Join Bobby Kim and Martin Stepanek in Nosara May 2016!
FII is proud to launch an exclusive line up of world class training in Nosara for May-June 2016.
Courses Available
* May 22-24, 2016 - FII Level 2 Freediver Course with Bobby Kim, $550.00(plus boat fees)

* May 25-26, 2016 - Practice Sessions with Bobby Kim, $70.00 per trip
* May 28-31, 2016 - FII Level 3 Freediver Course with Martin Stepanek, $695.00 (Plus 4 x boat fees, Memorial Day Weekend) *Limited spots remaining

* June 1, 2016 - Recreational freediving or spearfishing trip tbc with Martin & Bobby (min 4 people to confirm)

Register at www.freedivinginstructors.com/martin or
www.freedivinginstructors.com/bobby.kim

Accomodations and Transport

What is the airport code? Liberia (LIR). The average flight from MIA or SAN to LIR $500-550USD round trip (www.orbitz.com). There is another larger airport located 4+ hrs away in San Jose (SJN).

Accomodations are available at the Harbor Reef Resort www.harborreef.com. Yoga, surfing and massage available. Rooms starting from $63.00 per night. Shared accomodations may be available, please email us to express interest.

ATV rental from $40-50 per day. SUV and standard car rental also available.
For more information on Nosara, please email bobbyckim@gmail.com or info@freedivinginstructors.com
We hope to see you there!
FII Staff
Back to Blog Page