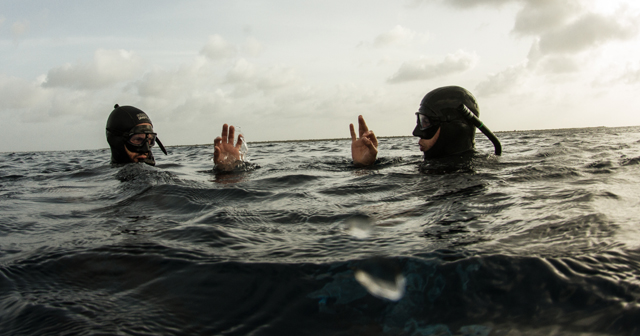 by FII - February 05th
In 2015 the Stuart, Florida, community suffered the tragic loss of a popular fifteen-year-old spearo who passed away while freediving/spearfishing unsupervised.
As the family and friends of this young boy came to terms with their loss, Alexandra Devonport, a concerned mom, went to work to ensure the kids of her community were properly educated on freediving/spearfishing safety and the dangers of freediver blackout. Mrs. Devonport teamed up with FII instructors Errol Putigna and Cameron Kirkconnell, and together these three passionate individuals hosted public freediving safety awareness events that touched more than two hundred individuals and changed the way this community freedives. As many of the students agreed, "We have been doing this the wrong way."
Children and teens participating in this sport are not the only people who need to be aware and trained in important freediving safety protocols. The FII Junior Freediver course caters to 12 years to 15 years old and parents are encouraged to attend the program with their childern.
All parents must learn to safely supervise freedivng/spearfishing activites on their boats, family vacations, and backyard pools. All too often parents believe they are doing their kids a favor by purchasing a speargun or long blade fins without knowing the dangers of this sport. All parents in the community were encouraged to attend the FII freediving safety seminars and truly valued the opportunity to join their children for this educational experience.
"Now more than ever I know that freediving classes are the first step to being safe. Please, save up your money and invest in your life. It is worth it! A safer freediver is a better freediver" states Alexandra Devonport.
FII would like to thank the Stuart community for opening their arms and allowing our professionals to share their freediving safety knowledge. This effort has made a tremendous difference in the safety of the community and has assisted in the awareness of freediver blackout nationwide.
Freediving safety presentations are available nationwide from FII professionals.
To find your nearest FII-certifed Junior Freediving Instructor, please browse the Instructor and Course Locator on the FII homepage or contact our office on info@freedivinginstructors.com / (954) 323-2222.
Back to Blog Page